Worthy Winners: 2016 BikeRegister Cycle Crime Awards
20 Jul 2016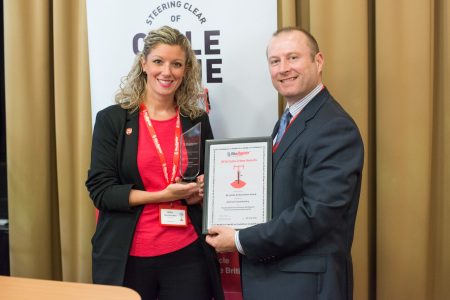 A highlight of the conference was the 2016 BikeRegister Cycle Crime Awards Ceremony which honoured the great work being done by so many police forces using BikeRegister to fight bike crime.
• Quickest Cycle Recovery Award
Winner: Lancashire Police
For: recovering a stolen bike in less than 1 hour
Grateful bike owner Simon Baldwin from West Sussex recalls the unusual circumstances of the theft of his bike and a super-quick recovery by Lancashire Police…
"I had my bike marked with BikeRegister by British Transport Police at a local station. Shortly after, I went on a short break and took my bike with me. I'd locked it to a wooden fence on a quiet access road at the back of my Mum's house. Imagine my surprise when local police rang me to ask whether I'd had my bike stolen?! Having seen my bike within the previous hour, my initial reaction was one of shock, quickly replaced by relief in the knowledge that the police had not only recovered my bike but also apprehended the thieves.
"What I find to be truly amazing is that the police obviously didn't know that I was on holiday in Lancashire and as far as they were concerned I was in West Sussex, yet they were able to contact me directly to let me know that my bike had been recovered before I even knew it had been stolen. From first contact to returning my bike, the officers involved took less than three hours."
• Largest Cycle Recovery Award
Winner: Met Police
For: recovering a record haul of bikes and returning them to their owners
A total of 23 bikes were recovered and returned to their owners thanks to some great detective work from PCSO Lynn Peck and PCSO Karen Bell from the Met's Roads and Transport Policing Command and an eagle-eyed ASB officer at a housing estate.
The first set of bikes was discovered by Lynn and Karen who regularly check unclaimed bikes placed in their local police store for BikeRegister markings. They recently recovered 4 bikes and reunited them with their owners and have recovered another 4 bikes over the past year in the same way.
The second set of recoveries involved 15 stolen bikes from Urban Adventure Base, an outdoor education facility. The bikes had been stolen early one morning and placed in a secure lock up on a housing estate.
The estate's ASB Officer noticed that glass on a CCTV camera had been broken and an unusual looking padlock had been placed on a lock-up. He contacted local police who unlocked the unit and found the 15 stolen bikes with BikeRegister stickers on them that were immediately traceable back to Urban Adventure.
The suspected bike thieves were later identified via CCTV footage and police were able to raid a property on the estate uncovering more stolen goods and drugs. This resulted in an arrest.
• Most Innovative Use of BikeRegister Award
Joint Winner: Met Police
For: using BikeRegister to check the search history of a suspected bike thief
A man was arrested in possession of 6 bikes that were presumed stolen. The suspect claimed that he had run checks on the bikes through BikeRegister before he purchased them.
A member of the Met team set out to verify the validity of the man's claim by running checks on the frame numbers of the 6 bikes through BikeRegister and compiled a list of everyone who had ever run a check on those frame numbers. He was able to make a copy of this and exhibit the results for court. This proved that the suspect had not conducted checks through BikeRegister on the frame numbers and led to the man's conviction for handling stolen goods.
The suspect appealed his conviction. At this point, Nick Roach, BikeRegister's Police Liaison Officer, stepped in and gave evidence at the appeal, proving that the BikeRegister results were conclusive and verifying that BikeRegister is the most used stolen bike search register. This evidence was crucial to the bike thief's appeal being dismissed. This was the first time BikeRegister was challenged at court and the appeal and conviction still stands.
• Most Innovative Use of BikeRegister Award
Joint Winner: Warwickshire Police
For: using BikeRegister to identify a victim in a Road Traffic Accident
A cyclist who was hit by a vehicle while out riding was identified solely by his BikeRegister marking, enabling his family to be informed of his hospital admission. The man, from Stratford on Avon, wasn't carrying any ID on him and couldn't communicate his name to police and ambulance crew.
Luckily, he had attended one of the many BikeRegister bike marking events held by Warwickshire Police where he had his bike marked with a Membership Plus Kit. This allowed the police to retrieve the cyclist's details by scanning the QR code which is linked to the BikeRegister database. Each QR code has a unique number which relates to a bike and it's registered owner, allowing the victim to be identified quickly and easily.
By finding his details on BikeRegister, police were able to contact the accident victim's family.
• Partnership Project Award
Joint Winner: Avon & Somerset Constabulary
For: events and partnerships force-wide
PCSO Sharon Cridlin of Avon & Somerset Constabulary hosted a breakfast bike marking event at a local pub where more than 50 high value racing bikes costing between £700-£3,000 were marked while the cyclists ate bacon butties! Meanwhile, PC Pete Rooke has done sterling work developing BikeRegister over the past few years, not just within his own area but he has also pushed it out force-wide.
• Partnership Project Award
Joint Winner: City Of London Police
For: events and partnerships force-wide
The dedicated City of London Police team capture commuting cyclists on their way to work and ensure front desk staff are trained so that members of the local community can pop in and have their cycles marked for free when it suits them.
They secured funding to purchase 250 Gold standard locks to enable them to run a free lock giveaway within the community. To date no cycle that has been part of this scheme has been stolen from public cycle bays.
The head of the team, PC Stuart Ford, runs a Police Cadet unit and has trained the cadets in cycle crime prevention and supplied them with their own equipment to enable them to go out and run cycle marking sessions themselves. A recent crime action week resulted in the marking of over 600 cycles.
• Be-spoke Achievement Award
Winner: Durham Constabulary
For: the development of a bespoke BikeRegister frame and Component Marking Kit
The BikeRegister Component Marking kit was developed with the assistance of BikeRegister by PC Dave Williamson and Ian Martin of Durham Constabulary.
The kit comprises a UV etch kit, microdots, tamper proof label and warning sticker. The UV etch has the advantage of being difficult for the thief to see and therefore remove, and is not too obtrusive to affect the look of a valuable bike. The microdots help protect the bicycle further and protect the component parts. The tamper evident label and warning stickers also offer a visible deterrent to the would-be thief.
The use of this kit in a crime reduction initiative has contributed to a 25% reduction in bicycle crime in the last 24 months.
• Special Mention
PCSO Dominic Bes-Jeary from Warwickshire Police received a Special Mention at our recent BikeRegister Cycle Crime Awards ceremony. Dom has worked tirelessly for the last 18 months to keep local residents and their cycles safe. At his first bike marking event over 100 bicycles were marked. He has run an operation to target harden Stratford town centre - and as a result cycle theft has halved from 121 cycles stolen in 2014/15 to 79 in 2015/16.
For a video roundup of the action on the day, take a look at:
https://www.youtube.com/embed/bc5gFIBneRQ
Share via:
Our location
BikeRegister
1 Locks Court
429 Crofton Road
Locksbottom
Kent BR6 8NL
U.K.

© Selectamark Security Systems plc 2004 - 2023. All rights reserved.