University of Oxford Deploys BikeRegister Across Entire Estate
28 Feb 2017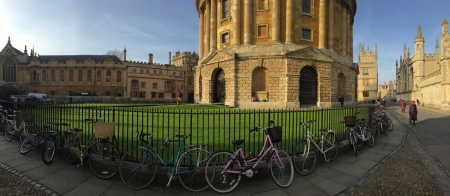 A new bike marking and registration system has been introduced across the entire University of Oxford estate.
The BikeRegister scheme has been initiated across all 38 colleges in order to reduce and deter bike theft for students and members of staff.
According to the University's Security Services, bike theft is the most prevalent crime across the estate, with the majority of bikes stolen on weekday afternoons from hotspots including the Science Area, the Keble Road area and the Saïd Business School.
Belinda Hopkins, Crime Prevention & Reduction Advisor, Security Services,University of Oxford, said: "We will now be using the BikeRegister system to mark and register as many student and staff bikes as possible. BikeRegister is the national cycle database which is used as a key cycle crime reduction initiative by every UK police force including Thames Valley Police and our local British Transport Police Officers."
She added:"BikeRegister has not only reduced instances of cycle theft but it has also enabled hundreds of cyclists to be reunited with their bikes after they have been stolen."
The security marking involves permanently and visibly marking a bike with a unique ID code which is applied to the bike frame on a tamper resistant QR label. This unique code proves ownership and places the details of the bike on the BikeRegister secure national database, which is accessible to the police 24/7.
Belinda said: "Not only does the register deter thieves, it alerts police to the fact that the bike is marked and registered. If a bike is stolen and then recovered, police can check the marking and log onto the database to verify the true owner and reunite them with their bike."
As part of the scheme, each student or staff member will be issued with a personal logbook as proof of ownership. Regular 'Lock It, Mark It' Events are being organised across the University estate.
Share via:
Our location
BikeRegister
1 Locks Court
429 Crofton Road
Locksbottom
Kent BR6 8NL
U.K.

© Selectamark Security Systems plc 2004 - 2023. All rights reserved.