Teenager Reunited With Stolen Bike
15 Mar 2016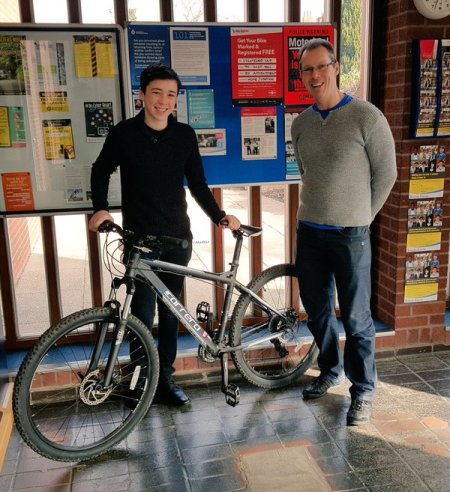 Officers from Warwickshire Police came across an abandoned cycle on a main road in Stratford-Upon-Avon, in the early hours of Sunday, 13th
March.

The officers seized the cycle on Masons Road, took it back to the police station and followed the normal police practice for booking in
property.
When the Stratford SNT came on duty a little later, further checks were made via the BikeRegister website and other police systems which
showed the cycle had been stolen from the town centre in early February.
Police then contacted the father of the teenage boy who owned the bike and who had registered it on BikeRegister on behalf of his son.
Arrangements were made for them to be reunited with the bike at the police station (pictured).

Every police force in the UK uses BikeRegister and has their own login to the database, which they can access 24/7, 365 days a year.
PCSO Dominic Bes-Jeary said: "If the bike hadn't been registered on BikeRegister, then we may not have been able to trace the owner or even ascertain that the bike had been involved in a crime.
"Tackling cycle theft is one of our community priorities which we take very seriously. You can register your bike for free at BikeRegister.com or attend the police station to have a unique code placed on your cycle. We also run lot of community bike marking events throughout the
year which we promote on our social media pages."
Our location
BikeRegister
1 Locks Court
429 Crofton Road
Locksbottom
Kent BR6 8NL