A Platform For Bike Marking
30 Jun 2013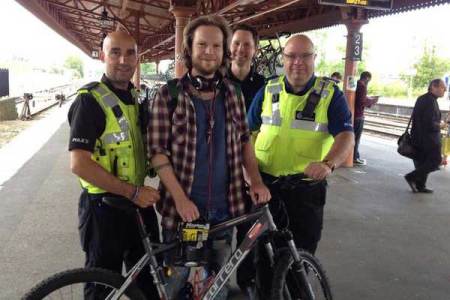 Cycle commuters at Leamington train station were recently able to take advantage of a free bike check and the chance to register their bike on BikeRegister, the leading bike marking initiative in the UK.
Warwickshire County Council joined forces with British Transport Police (BTP), Chiltern Railways and a local bike repair company to run 'Pedal & Ride' cycle events at the station. The funding for the two-day event was met by the council and managed by Sustrans.
Cyclists were offered the chance to get their bike serviced free of charge by Bike Fixers, while BTP Officers registered 50 cycles with the BikeRegister marking system, which helps deter would-be thieves and makes it easier for police to reunite any stolen bikes that are recovered with their owners.
BTP carry out regular bike marking sessions at railway stations all over the country using BikeRegister, which is the preferred bike marking system across all UK police forces.
British Transport Police Community Support Officer (PCSO), Hayley Wood, said: "We were delighted to join forces with the council and Bike Fixers to reward cycle commuters and improve bike security at Leamington rail station.
"We hope by getting cycles security marked and registered using BikeRegister and ensuring people have an adequate lock, we can reduce the number of cycle crimes.
"We received extremely positive feedback from cyclists and other members of the public. Everyone agreed it was reassuring to cyclists using the rail network that BTP was taking cycle security so seriously."
Karen Bowden, Station Manager at Chiltern Railways said: "This is a great opportunity for our customers to make sure that their bike is in good working order and that it is registered, which can help to deter crime at the station."
Share via:
Our location
BikeRegister
1 Locks Court
429 Crofton Road
Locksbottom
Kent BR6 8NL
U.K.

© Selectamark Security Systems plc 2004 - 2023. All rights reserved.