2019 BikeRegister Video Competition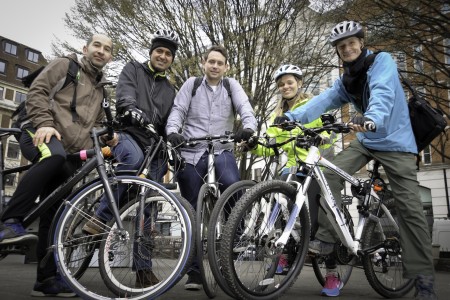 #reunited
To celebrate the hundreds of bikes that have been reunited with their owners through BikeRegister, we are holding a video competition so we can learn about your success stories and produce a promotional video for our website and social media campaigns.
Closing Date: 31st May 2019
How to enter:
To enter, simply record a video with your mobile phone, or any other device and upload it to YouTube, Facebook or Twitter.
Please also tag us @BikeRegister and include the YouTube, Facebook or Twitter link in your competiton entry email.
Step 1: Once you have edited your video, please send it to [email protected] via wetransfer.com – it is free to use. Please ensure your contact details are included.
Step 2: To complete your entry please email [email protected] with the following details:
Subject: 2019 BikeRegister Video Competition
Full Name
Email address
BikeRegister Logbook number (from your BikeRegister account)
YouTube, Facebook or Twitter link where the video is posted
What we are looking for:
Our video competition requires you to submit a short video to tell your story of how your bike was recovered with the help of BikeRegister. These videos will be used to create a compilation/montage that is used as video content on social media and our website http://www.bikeregister.com.
Video requirements:
Your face and voice must be clear and easy to understand.
The video must be filmed landscape (with the phone in horizontal mode with the longest edge parallel to the floor).
The video must answer the following questions
1. "Your name, age and location "
2. "How was your bike recovered with BikeRegister?
3. "Where was your bike recovered from?"
4. "Why would you recommend BikeRegister?"
Prizes:
Best Video (1 winner) - Ribble Endurance Al Tiagra Roadbike worth £799
10 x Runners Up - Abus Ultra410 D-Locks (with cable) worth £29.99 each.
All participants will be rewarded with a 25% discount voucher to be redeemed on bikeregister.com by 30 Sept 2019.
Terms and Conditions:
The 2019 BikeRegister Video Competition 2019 is open to all BikeRegister members over eighteen (18) years of age, as of the date of submission.
The competition is free to enter. Only one entry is permitted per individual.
All entries must be submitted via wetransfer.com and sent to [email protected] with the following details: Subject: 2019 BikeRegister Video Competition, full name, email address, BikeRegister Logbook number and YouTube, Facebook or Twitter link where the video is posted.
The video should be posted on YouTube, Facebook or Twitter using the hashtags #bikeregister and #reunited.
The video content must not contain any offensive or inappropriate content and must not infringe on any intellectual property or other rights of any person or entity, or violate any law or advocate any illegal activity.
Entries will be judged according to their relevance, originality, quality of the video and creative merit.
A judging panel appointed by Selectamark Security Systems will select the winner and five runners-up. The names of the judging panel will be made available on request. The judges' decisions shall be final. No correspondence regarding the results will be entered into.
The names of the winner and runners up will be published on the BikeRegister website and social media along with the winning videos. Entries may be shown at future BikeRegister events
Unless agreed otherwise, entrants retain ownership over their entry to the Competition. By submitting an entry, entrants grant BikeRegister a worldwide, non-exclusive, sub-licensable, irrevocable and royalty-free licence to use, display, publish, transmit, copy and edit the entry, in whole or in part, in any way and in any media, now or in the future.
Any personal data submitted by the entrant will be processed by BikeRegister in accordance with any applicable data protection legislation. BikeRegister's privacy notice is available at: https://www.bikeregister.com/information/privacy-policy
The winner will be awarded a Ribble Endurance Al Tiagra Roadbike worth £799. The 10 runners-up will be awarded an Abus Ultra410 D-Locks (with cable) worth £29.99 eac The prizes are non-exchangable, non-transferable, non-refundable and no cash alternative is offered.
The Prize is subject to availability. BikeRegister reserve the right to replace the prizes with alternative prizes of equal or higher value if necessary, and to cancel, amend or suspend the competition or any part of it (including the Terms and Conditions) as required by the circumstances.
The winner and runners-up will be notified by email or telephone (using the details provided at entry). If the prizes are declined or unclaimed by a winner, or if a winner cannot be contacted from the details supplied within 30 business days of notification, a replacement winner may be chosen at BikeRegister's discretion and will be notified by BikeRegister. BikeRegister will not be liable for any failure, delay or inability to contact a winner.
The deadline for submissions is midnight (BST) Friday 31 May 2019. Any entry which is late, incomplete or inappropriate will be deemed invalid at the discretion of BikeRegister.
BikeRegister accepts no responsibility for any technical failures which may result in any entry being lost, corrupted or not properly registered. No responsibility will be taken for damaged or lost entries
BikeRegister cannot accept responsibility for or liability arising from entrants taking part in the Competition or for taking up the prizes. BikeRegister gives no warranty or guarantee in relation to the prizes and accept no responsibility or liability for the prizes being amended. To the fullest extent permitted by law, BikeRegister exclude liability for all loss, damage or claim arising as a result of a participant's entry into the Competition or use of the prizes.
By entering the Competition, entrants agree to hold BikeRegister harmless for liability, damages or claims for injury or loss to any person or property, relating to, directly or indirectly, participation in this Competition, or claims based on publicity rights, third party intellectual property rights, defamation or invasion of privacy
BikeRegister reserves the right to refuse entry or to refuse to award a prize to anyone in breach of these Terms and Conditions.
The promoter is BikeRegister which is operated by Selectamark Security Systems plc ('Selectamark'). 1 Locks Court, 429 Crofton Road, Locksbottom, Kent. BR6 8NL
Our location
BikeRegister
1 Locks Court
429 Crofton Road
Locksbottom
Kent BR6 8NL
U.K.

© Selectamark Security Systems plc 2004 - 2021. All rights reserved.