What To Do If Your Bike Is Stolen This Christmas
21 Dec 2016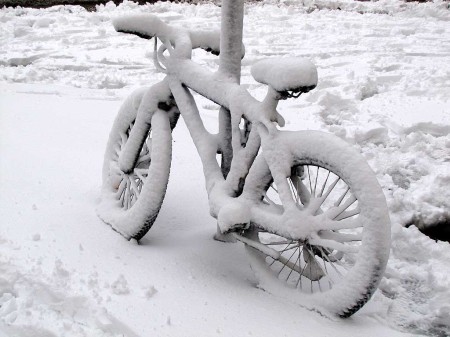 Bikes are always a popular gift at Christmas time, so anyone who receives one should make sure they get theirs securely marked and registered to national cycle database BikeRegister (
http://www.bikeregister.com
) in case they're unfortunate enough to have it stolen.
Bike theft is a frustrating and upsetting experience. However, the steps you take after the theft could greatly improve your chances of recovering your bike – especially if you act quickly…
1. Report the theft to the police
The first step is to report the fact that your bike has been stolen to the police by calling 101. Ideally, you need to know the make, model and frame number. You should also tell police if the bike has been marked and registered to BikeRegister, the national cycle database, as this will increase the chances of the police being able to trace your stolen bike back to you if it is recovered.
2. Report the theft to BikeRegister
BikeRegister is the UK's leading online bicycle identification and registration initiative aiming to reduce cycle theft, identify stolen bikes and assist in owner recovery. It is the UK's largest cycle database and is used by every police force in the country. If your bike is registered with BikeRegister, they can
help you get the word out about your stolen bike to their community members via social media. You can register here and also report your bike as stolen at:
http://www.bikeregister.com
3. Report the theft to your insurer
A dedicated cycle policy usually offers a better deal than general household insurance, which may only cover bikes up to a certain value. If you've got bike insurance, you'll need to report the theft to your insurer within 24 hours of discovery. The crime reference number the police will give you, combined with a receipt for your bike will help you make a claim.
4. Alert second hand bike shops
Contact second hand bike shops in your area and let them know the details of the stolen bike in case the thief comes into the shop and tries to offer the bike for sale.
5. Put up flyers
Worth a shot! A few well-placed flyers in your local neighbourhood could help find your bike. Depending on how important your bike is to you, you may consider offering a reward.
6. What to do if you spot your stolen bike for sale
There are countless stories about people who spot their stolen bike for sale on online auction sites. However, meeting up with the seller can be dangerous and is not advisable. If you find yourself in this situation, contact the seller of the bike via text message and arrange a meeting. Then, contact the police and tell them where you'll be meeting the thief. The police can't pose as buyers, but they can act on information about a thief and have been known to intervene in these circumstances.
Share via:
Our location
LIS Forensics Ltd
103 Citywest Business Centre
3013 Lake Drive
Citywest
Dublin 24
D24 PPT3
Ireland

© Selectamark Security Systems plc 2004 - 2023. All rights reserved.