Daniel Tulett, Olympic Development Programme cyclist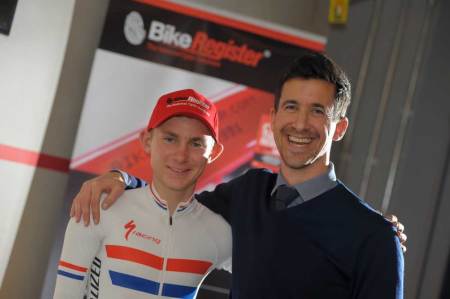 We are delighted to announce that BikeRegister is sponsoring cycling sensation Daniel Tulett, who has already caught the eye of British Cycling as a future Olympic hopeful.
The talented 15-year old from Shoreham in Kent is a six-time national champion and has already been dubbed The Mighty Atom for his strong performances.
Dan has been fast-tracked onto British Cycling's Olympic Development Programme two years early, a sign that he is seen as a medal prospect in years to come.
His dad, Allister, a former race cyclist, said: "Dan still does quite a lot of road cycling but the focus is definitely towards the Olympic discipline of mountain biking."
Daniel's rise has been meteoric to say the least, but his talent on a bike has been there from an early age.

Allister said: "When Dan started to win races, I packed my cycling in and started taking him to competitions instead. He races about 40 times a year, so it is a heavy schedule."

Undoubtedly dedicated, Daniel is also keenly aware that he has to balance his cycling with his education.

"The school has been very supportive," said Allister. "He balances it pretty well. He does his homework when he gets in, that always comes first, before he rides the bike."

BikeRegister will support Dan with branded cycle gear and accessories.

James Brown, MD of BikeRegister said: "We were looking for an ambassador for our fast-growing brand and Dan as a future hopeful in the cycling world fits the bill perfectly."

He added: "We look forward to supporting Daniel on his exciting journey over the weeks, months and years to come."

Our location
LIS Forensics Ltd
103 Citywest Business Centre
3013 Lake Drive
Citywest
Dublin 24
D24 PPT3
Ireland

© Selectamark Security Systems plc 2004 - 2023. All rights reserved.